Angkor Travel Guide provides professional bird watching tour accompanied by experienced bird watching guide with bird list.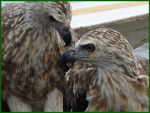 Prek Toal Bird Sanctuary
The 'bird sanctuary' at the Prek Toal core area of the Tonle Sap Biosphere Reserve has been called "the single most important breeding ground in Southeast Asia for globally threatened large waterbirds." The Biosphere covers 31,282 hectares at the northwest tip of the Tonle Sap Lake and plays host to species including Greater and Lesser Adjuncts, Black-headed Ibis, Painted Stork, Milky Stork, Spot-billed Pelican, Grey-Headed Fish Eagle and many more species. Of the three Biosphere core areas on the Tonle Sap Lake, Prek Toal is the most accessible from Siem Reap and the most popular with birdwatchers. The best time of year for viewing is the dry season (December-May) when flocks of migratory birds congregate at Prek Toal. As the dry season progresses and the water recedes, the number of birds increases but the travel to some of the more important viewing areas becomes more difficult.
For today's tour you will be picked up at the hotel early in the morning at 5am with your breakfast en route you will be driven to the boat jetty of Mechrey where you take a large private boat and head for Prek Toal, the Bird Sanctuary. It takes you more than one hour to get there and then you take a small boat as the Bird Sanctuary is not accessible by the large boat. Your boat man will take around and shows you the different species of birds.

You will be back at the boat jetty roughly in the in the afternoon then you will meet your car driver who will be waiting for you at the jetty to take you back to the hotel.
Price:
2 people= 175USD

Inclusion:
- Entrance free for Mechrey floating village

-Ticket for the bird sanctuary
- Large boat from jetty of Mechrey to Prek Toal

- Small boat to the Bird Sanctuary

-a good A/C car with a driver
-Cold pure drinking water and cold wet tissue
-Transfer in and out services during the tour

Exclusion:
All other fees not mentioned above